PAVÉ-UNI (UNISTONE) ENTRANCE AND PARKING
With a wide range of high quality pavers produced by Techo-Bloc as well as several other landscape elements (plants, rocks, etc.) we are designing and installing with the greatest of care your residential and commercial projects. The entrance way to your home must be inviting and attractive, friendly and practical, durable and ergonomic, all in harmony with its environment. Moreover, it should reflect the mood and style of the owners needs.
Whether your Pave-uni & landscaping project is for a new home development or remodel of an existing entrance way or driveway, our team has the necessary experience to complete the project.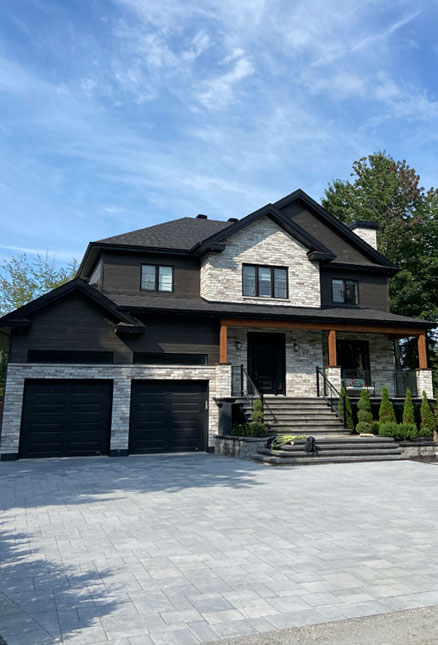 There is nothing more environmentally friendly than natural stone. Groupe Mikasa has become a master in the art of creating elements and structures using natural stone which is one of the oldest treasures of the earth. Carefully selected, natural stone brings distinction to any project. Our designers combine walls and stones to solve slope problems and levels. All our masonry work is performed by experienced masons who have attention to detail.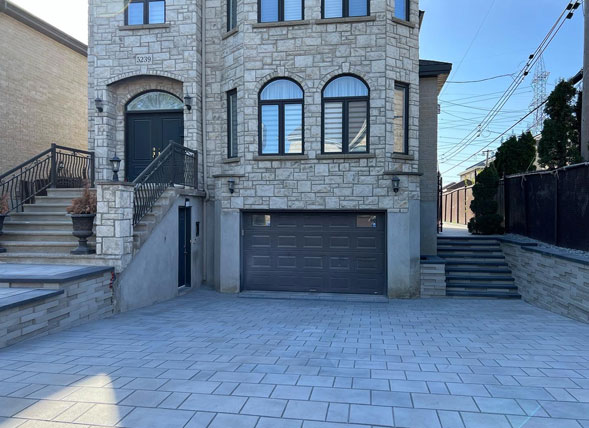 PAVÉ-UNI AND SWIMMING POOLS
An in-ground or above ground pool and spa are an investment and an overhaul of the back yard. The integration of such items in your decor requires good planning for a result that meets your aspirations. Many elements must be analyzed: municipal standards, Pave-uni & landscaping privacy for swimming area and relaxation. Contact us today to make your back yard dream a reality!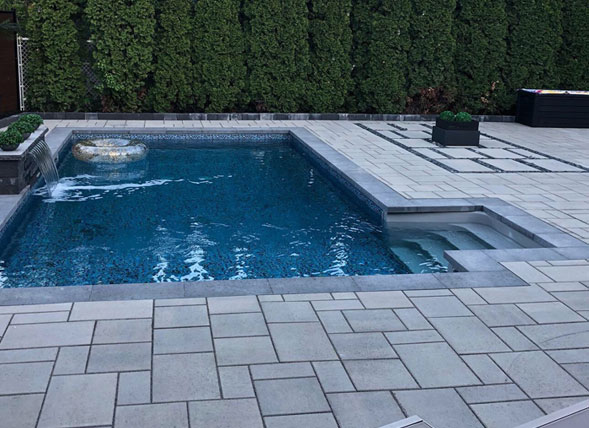 The back yard is an extension of your home, in which you can add new outdoor living areas. These new areas have various functions such as: outdoor kitchen and outdoor dining, fireplace area, relaxation/reading area, swimming/spa area, vegetable garden and herbs area and a host of other functions and possibilities. Tell us what you vision and we will build it block by block. Patios, steps, driveways, retaining wall, outdoor fireplaces.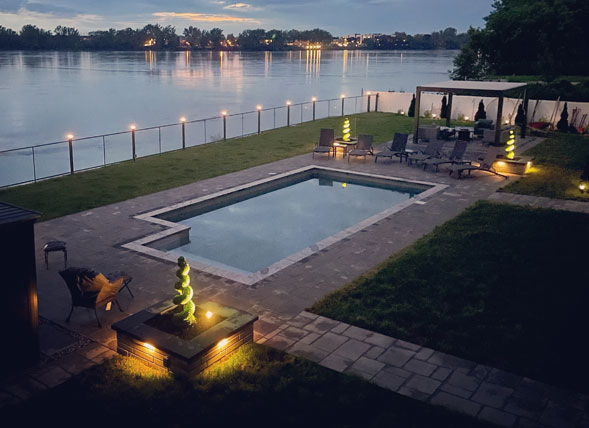 The arrangement of the layout of trees and various plants are as important as the architecture of the project. Mikasa can plant small trees + mature cedar hedges, perennials + annuals as part of your project. Chosen according to the style and atmosphere you want to give your garden, plants help to create not a beautiful space. Executed by a specialized team, Pave-uni & landscaping work is done carefully and with attention to detail to enable you to enjoy a garden for many years.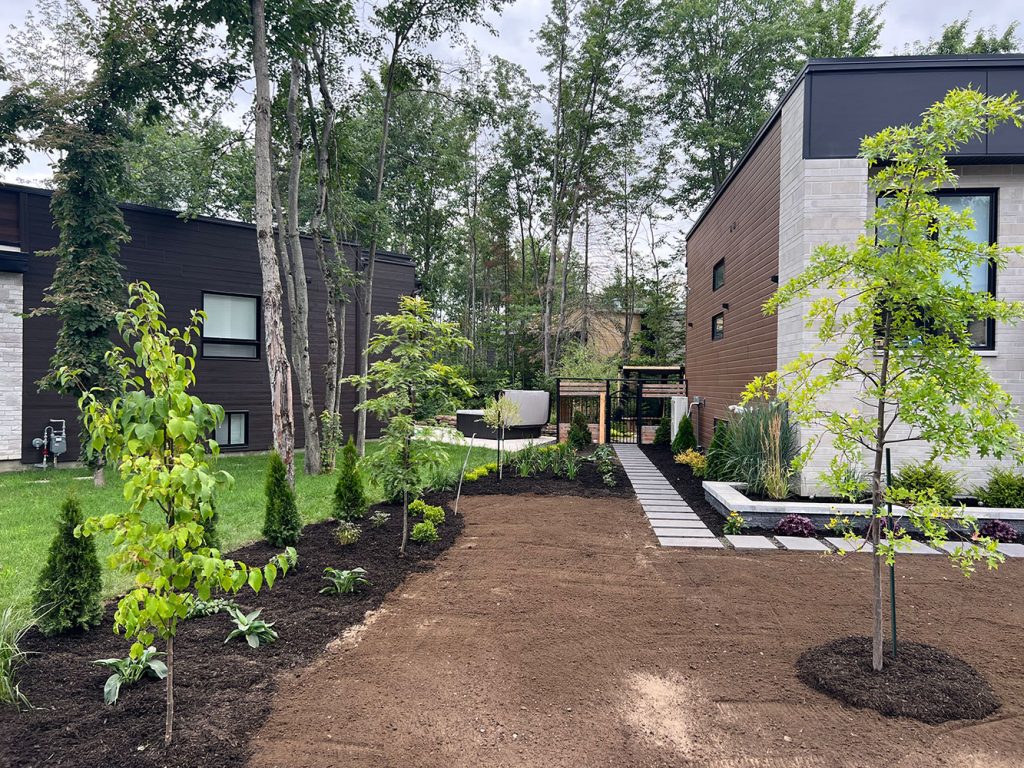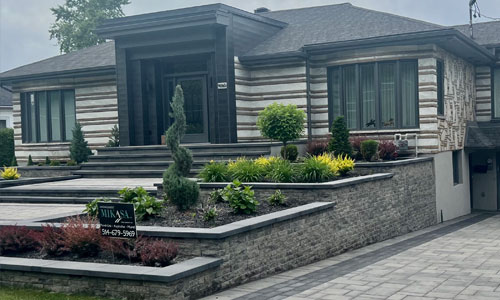 Are you proud of your property and would like to make it look great after dark? Whatever the situation, Mikasa will reveal the beauty of your environment in the dark by creating the atmosphere you are looking for through the softness and beauty of landscape lighting.
Whether it's a garden or backyard, located in town or in the suburbs Mikasa will meet your expectations in terms of outdoor lighting and you will be able to enjoy the beauty of your property at all times, seen from inside and outside.
It will be our pleasure to advise you and accompany you in the development of your project for your current residence or for a new property,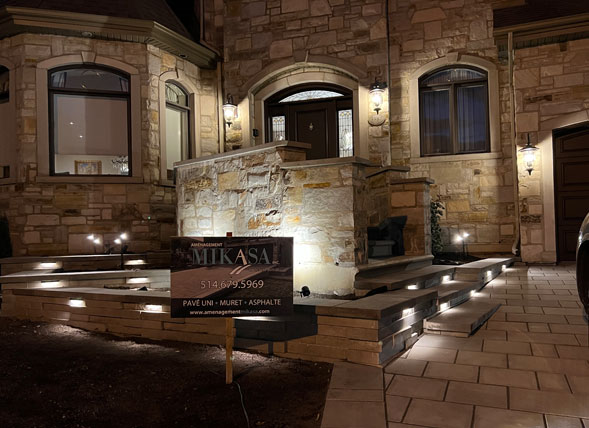 The main advantage of glass railings and fences is without a doubt their transparency. Sturdy and durable, they are suitable for both indoor and outdoor installations. On a balcony or a terrace, it allows you to enjoy an unobstructed view of your yard, your swimming pool or your land and thus fully enjoy the nature that surrounds you. In addition, there is nothing more effective to cut down the wind on an elevated terrace!
Do you have a commercial project? We have the necessary experience, machinery as well as an experienced team to execute your commercial project. Amenagement Mikasa is a partner of choice in the execution of your commercial paving stone work. Do you have a project for a condo building or commercial building, are you looking for a contractor who knows construction well? Over the years, Our team has developed an effective and proven working method as well as a good network of suppliers and partners in order to carry out projects of irreproachable quality.